Skip to Content
The Truth About Bioidentical Hormones

This is a story we hear often, of women whose quality of life is misery because they are in menopause.
A recent patient, a 52-year-old woman, came to us suffering from severe menopausal symptoms: vaginal dryness, hot flashes and night sweats that kept her up all night.
Her First Step Was to Go to Her Gynecologist of 25 Years
When she mentioned her menopausal symptoms and the profound impact they had on her quality of life, he told her that they would pass. So, she trusted him. After all, he delivered her 2 children and he had always been a kind and caring physician. However, her symptoms did not go away, but only got worse. Intercourse became extremely painful.
So Back to the Gynecologist, She Went
This time, she had done some research. She wanted to discuss bioidentical hormones with him. When she raised this issue, he immediately responded: "You don't want to take those, they will kill you." End of discussion. Needless to say, she left confused and afraid.
This is not an uncommon scenario that we see at Mitchell Medical Group. Many women are seeking treatment, not only for menopause, but peri-menopause, PMS, and irregular periods. The Internet is bursting with information on synthetic and bioidentical hormones. Yet how to weed the good from the bad? The real from the false?
Even the word bio-identical has been misused. Bio-identical means that the substance is chemically identical to the substance in our bodies.
By now, everyone has heard of the Women's Health Initiative (WHI).
It was halted due to an increase in certain types of cancer (depending on the synthetic hormone or a combination of synthetic hormones used). Here's why.
What women need to know is that all hormones are not created equal.
Even the use of the word estrogen can be misleading. In fact, there are 3 different types of human estrogens:
Estrone, the most potent and is formed in menopause due to the decrease in other estrogens
Estradiol, the most available to women until menopause
Estriol, the weakest estrogen
Bioidentical hormones are chemically identical to substances in our bodies, including estradiol, progesterone, testosterone, cortisol and several others.
The Women's Health Initiative used a synthetic hormone: Premarin.
It is composed of conjugated estrogens from horse urine. I believe this was used because it was cheap and readily available.
Premarin was used with and without Prempro, medroxyprogesterone acetate (MPA). Prempro was given to women on Premarin, if they had a uterus, as it was believed that this combination would prevent endometrial cancer.
It needs to be made clear that the hormones WHI used are not made in a human female body. I think most people would say that horses are way different than humans.
This is where bioidentical hormones come in.
Even before the WHI, integrative practitioners were using compounded bio-identical hormone replacement therapy, aka, bio-HRT. It had to be compounded, as there were no FDA approved bio-HRTs at that time.
As with most things in medicine, it took a long time for the medical community to realize that bio-identical hormone replacement therapy offered an alternative and safer option to synthetic hormones.
A turf war developed between Integrative physicians and gynecologists.
At Mitchell Medical Group, in our Initial Evaluation, we do a careful analysis of your history and blood tests to determine what treatment is best for you. There are disagreements on how to measure hormones. Blood, saliva, and urine have been used in testing. There is little agreement as to what is the best method.
It depends, I believe, on who can order the test. For instance, an ND, Naturopathic Doctor (not allowed in New York State) cannot order blood. Suffice it to say, most physicians, including knowledgeable gynecologists will agree: treat the patient, not the number.
There are several you should know before choosing a physician to prescribe any hormone replacement therapy.
All women should have a baseline blood test, mammography or thermography, and a vaginal ultrasound.
There are now many FDA approved bio-identicals if one does not want to use compounded products.
There are also different ways to administer hormones: oral, topically via a gel or cream, and patches.
It is up to you and your physician to determine what is right for you.
Back to My Patient
After allaying her fears and giving her relevant literature, I performed the above tests. We started her on an estradiol patch, at the lowest dose, and an oral progesterone pill.
Within 3 months, her menopausal symptoms of hot flashes and night sweat disappeared, she was sleeping better, and her sex life improved. She got her life back.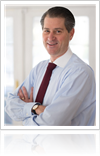 At Mitchell Medical Group, an informed patient is the best patient.
– Dr. Dean Mitchell, M.D.
Mitchell Medical Group, NYC
About the Author – Dr. Dean Mitchell, M.D.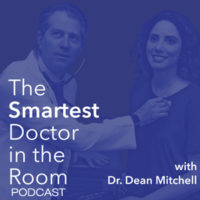 Dr. Dean Mitchell, M.D. is a Board Certified Allergist and Immunologist based out of NYC. He graduated from the Sackler School of Medicine and completed training at the Robert Cooke Allergy Institute in New York City. He is also a Clinical Assistant Professor at Touro College of Osteopathic Medicine, a fellow of the American Academy of Allergy, Asthma, and Immunology, and the author of Dr. Dean Mitchell's Allergy and Asthma Solution: The Ultimate Program for Reversing Your Symptoms One Drop at a Time. Dr. Dean Mitchell, M.D. has also been featured in The New York Times, The Huffington Post, Fitness Magazine, Dr. Oz and News NY 1. Dr. Mitchell also hosts the podcast The Smartest Doctor in the Room – a combination of a lively, personal and in-depth interview with top healthcare specialists.