Skip to Content
Fibromyalgia Doctor in NYC & Long Island
Proven Holistic Treatment for Fibromyalgia
While there are many different approaches to treating fibromyalgia at Mitchell Medical Group, Dr. Dean Mitchell M.D. and Dr. Ricki Mitchell M.D. have seen the highest success rate in treating fibromyalgia through immune rebalancing which focuses on the underlying causes of fibromyalgia and by reducing inflammation and easing pain naturally.
At Mitchell Medical Group, we have treated hundreds of patients in our NYC and Long Island offices with fibromyalgia and had significant success in helping them get their lives back!
There Are More Than 3 Million Fibromyalgia Cases Every Year
Working with Dr. Dean Mitchell at Mitchell Medical Group, you can find more comprehensive treatment for fibromyalgia that may offer solutions where other physicians have failed to provide any sort of significant pain relief. Our NYC practice is dedicated to a holistic approach for chronic illness treatment, and we specialize in fibromyalgia care for patients living with the widespread, severe pain this condition causes.
Telehealth New Patient Consultations
We know it can be difficult to always find time to get to the doctor's office which is why we are now offering telehealth virtual new patient consultations with Dr. Mitchell. During the consultation, you will speak directly with Dr. Mitchell about your health issues just like you would at his office.
It is important for all those who are interested in a telehealth appointment with me to know that medico-legally I cannot diagnose or treat anyone unless we have a face-to-face, in-person office visit. I cannot prescribe any medications or supplements from a telehealth visit (the exception to this is if you live in New York State).
These telehealth visits are intended for educational and informational purposes only. My goal is to help provide you with these resources to work with your local healthcare provider to get the best care possible.
Call our office today at 212-397-0157 to schedule your consultation or request an appointment online.
Our Approach to Treating Fibromyalgia
We believe in taking a holistic approach to treating patients which is why we avoid using medications to treat fibromyalgia. The source of fibromyalgia pain varies from person to person but in most cases, it is triggered by a lack of energy in the muscles that lead to muscle shortening, stiffness, and pain.
We want to offer our patients the best treatment for fibromyalgia which is why we follow the treatment protocol of the national leading expert on fibromyalgia, Dr. Jacob Teitelbaum, M.D.
Dr. Teitelbaum's treatment protocol is known as SHIN protocol which stands for:
Sleep
Hormonal deficiencies
Infections
Nutritional support
Most patients treated with SHIN protocol have their pain eliminate in as little as 3-4 months. And we have found that fibromyalgia patients tend to recover when ALL of the major underlying perpetuating factors are treated which is exactly what we aim to do with our treatment protocol.
One of the tricky things about treating fibromyalgia is that fibromyalgia is both a common endpoint for any health problems and a cause for these problems. Infections, nutritional deficiencies, and hormonal deficiencies can all, individually and in concert, trigger and perpetuate fibromyalgia. Fibromyalgia can also cause hormonal and immune dysfunctions which is why it is important to get treated by a doctor who specializes in fibromyalgia. Most traditional doctors do not know how to correctly diagnosis fibromyalgia let alone successfully treat the condition.
Our fibromyalgia treatments typically include:
T3 and T4 hormone replacement
Magnesium injections
Antioxidant therapies
Immune boosting therapy: Gamma Globulin injections
Methylcobalamin (B12) specific for MTHFR deficient patients
Antioxidant therapy: NADH & Glutathione
Our Process
Our process for treating fibromyalgia can be broken down into a 7 step integrated program that works to address the underlying dysfunctions that cause your illness. We use a patient-centered, holistic plan of care that treats the whole body. While the steps below are our general guidelines for treating fibromyalgia, we customized our treatment protocol based on each patient's unique needs.
Initial comprehensive consultation and extensive lab work
Address pain and sleep disturbances
Enhance mitochondria by improving nutrition
Balance hormones by evaluating hypothalamic, thyroid, adrenal, ovarian/testicular, and pituitary function
Evaluation infectious components and treat underlying infections like candida overgrowth
Address unique etiologies such as neurotoxins and coagulation defects
Provide an individualized maintenance program with the minimal amount of medications and supplemented needed to keep you well
Why Is Fibromyalgia So Hard to Diagnose?
Fibromyalgia is a unique cause of chronic pain, because it often does not show the inflammatory patterns of conditions like arthritis, and it has no single test to achieve a diagnosis. Therefore, a long list of other conditions must be ruled out before a diagnosis of fibromyalgia is confirmed. Common misdiagnoses for fibromyalgia include depression, inflammatory arthritis, and autoimmune disorders.
The goal of our cutting-edge approach to treating fibromyalgia is to reduce the inflammation which is a key to recovery. With any of our treatments, we treat the entire patient not just the point of pain. Many health issues aren't caused or treated in confinement which is why we focus on treating the entire body and not a single pain point on the body.
Once the underlying causes are treated it's amazing how quickly fibromyalgia can be resolved.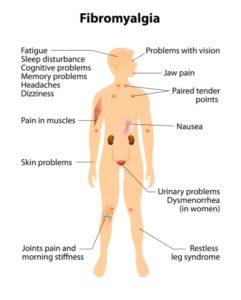 Fibromyalgia Treatment
There are many different possible approaches to fibromyalgia treatment, including the use of medication, lifestyle changes, and physical therapy. At Mitchell Medical Group, we have seen the most success in fibromyalgia treatment through immune re-balancing, which helps to reduce inflammation and ease pain naturally. Some of the holistic therapies we utilize include sublingual candida immunotherapy, T3 and T4 hormone replacement, magnesium injections, and antioxidant therapy. Not only will these treatments aid in the relief of fibromyalgia pain, but they can also help treat common co-occurring disorders, such as hypothyroidism, which tends to produce many overlapping symptoms.
Why Our Testing Is Different:
Our approach to treating Fibromyalgia is by immune rebalancing. Inflammation of muscles or nerves is believed to be at the root of Fibromyalgia pain. Our cutting edge treatments using Vitamins, Magnesium, and Gamma globulin to reduce the inflammation can be the key to recovery.
If you have been diagnosed with fibromyalgia, or think you might be living with fibromyalgia or hypothyroidism, please contact us today to schedule an appointment. We have offices in midtown Manhattan in NYC and Long Island.
Fibromyalgia Patient Success Story
After seeing numerous other doctors for fibromyalgia and without any relief in pain, Joan traveled from Miami, Florida to receive fibromyalgia treatment from Mitchell Medical Group.
Fibromyalgia and Hypothyroidism
A significant number of people with fibromyalgia also have hypothyroidism. Some experts believe that like many instances of hypothyroidism, fibromyalgia is an autoimmune disorder. Others believe that fibromyalgia is a form of hypothyroidism. Whatever the reason, many patients with fibromyalgia have untreated hypothyroidism, and the two disorders have overlapping symptoms, including:
Fatigue
Brain fog
Weight gain
Depression
Muscle pain
Schedule Your Consultation
If you are living with the extreme pain of fibromyalgia, or you have been struggling with undiagnosed chronic pain, call Mitchell Medical Group at 212-397-0157 for an appointment in our NYC offices.