Skip to Content
My Martha Stewart Experience: Dust Mites, Special Treats for Food Allergy Sufferers and Joan Rivers

Dr. Mitchell on Martha Stewart
Two weeks ago I was in a whirlwind of activity. My office was moving to its new location on 57 West 57th street and I was contacted by The Martha Stewart Show to come and discuss the problem of indoor allergens. I was excited at the opportunity to be on the show, however with the move and all that it entails, I wasn't sure if I was juggling too many balls in the air.
I was impressed that Barbara, the producer at The Martha Stewart Show, was very intent on the quality of the material is interesting and factual – no hype – just the real deal. She spent the entire week getting me ready with my material and her assistant Sara was busy tracking down good pictures to use for the television audience. The preparation for the show was a good review for me: I worked with Allergy Control Products, a company that specializes in products for the home to decrease indoor allergens. All the facts mentioned on the show to reduce dust mites are well-documented in the medical literature: use of encasements for mattress and pillow covers, using HEPA vacuum cleaners and keeping humidity in the home under 50%. The Martha Stewart line of bedding: Allergy Wise bedding at Macy's was new to me, but it was made from comfortable materials and hypoallergenic synthetic fabrics – and affordably priced.
I was excited that the show started with a zoom-in my book, Dr. Dean Mitchell's Allergy and Asthma Solution (Marlowe 2006). Then I was sitting next to Martha – live on the air getting ready to take her questions. I will admit I was nervous for a half-hour before I was to go on the air, but I was lucky that the guests for the day –Joan and Melissa Rivers – got me laughing minutes before I went on the air.
Joan took a question from a young female audience member just before I was to go on. The question was from a 20-year-old female: "Mrs. Rivers, if you were my age, what would you recommend I do with my life? Joan's answer: "Honey, my advice is to get married, make sure he's rich – and very old and in need of a pacemaker." Joan Rivers, like Don Rickles, is still on top of her game.
Finally, the spotlight was on me and I knew I had to remember all the facts floating in my head. Martha asked me "Why allergies are so common today?" My answer was the same as I wrote in an earlier blog: New studies are confirming that city children are more likely than rural children to develop allergies. The findings are pointing to the early exposure to bacteria found on farms with animals that strengthen a child's immunity to allergies and asthma. The key seems to be exposed in the first year of life when the immune system is very influenced by external surroundings. A prior study showed similarly that children exposed to dogs in the first year of life were less likely to develop animal allergies to dogs.
Joan Rivers—Still on Top of Her Game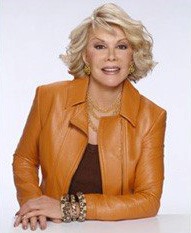 When I was in the dressing room I had the pleasure to meet Lori Sandler and her son Benjamin. Lori is the owner and founder of Divvies, a company that makes desserts and other treats for allergic children and adults. I spoke with Lori and said there is a great need for these products. I've seen so many parents try hard to make sure their child with a peanut or a tree nut allergy finds desirable and safe treats for birthday parties and other events. Even an everyday chocolate bar can be dangerous to some of these children if contaminated at the processing plant with nuts.
Well, my fifteen minutes of fame (actually it was nine minutes) is over, and I'm glad to be back at my regular job as an NYC allergist helping my patients with allergies and asthma.
Dr. Dean Mitchell
Mitchell Medical Group, NYC & Long Island